History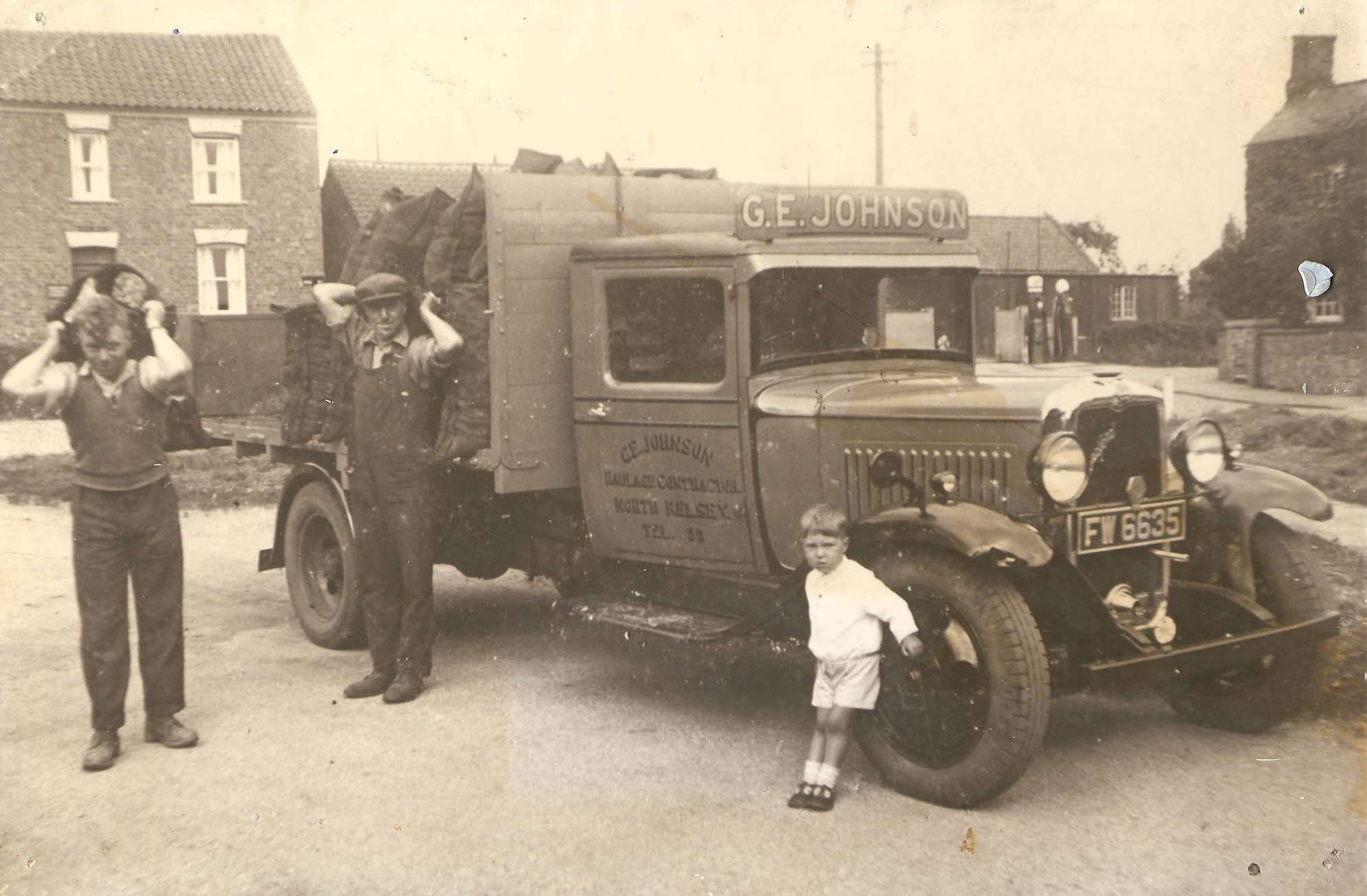 From left to right: George Johnson, Arthur Johnson and Cliff Johnson (aged 5) in 1935
A Timeline of the Life of George Johnson and G&C Johnson (Claxby) LTD
1907- George Johnson was born at Greetwell, near Scawby
1920- George left Thealby School at 13 years of age and went to work on a farm working for a wage of 15 shillings a year (roughly £75 in today's money!) He worked with Horses and described himself as a good 'Stacker and Thatcher'
1932- Borrowed £100 from his father-in-law and bought his first lorry - a 'Ford T' Mainly delivering coal during the day and ice cream at night around the village of North Kelsey
1930's/40's- Ran a fleet of lorries of mainly Bedfords and Commers on Tipper work and moving livestock
1952- Nationalised- Post war Labour government took control of all lorries
1954- De-nationalised- Bought farmstead at Crosby Grange, Scunthorpe and formed G&C Johnson (Claxby) LTD
1956- George's Daughter, Ruth Whitwell joined the company and served as Company Secretary until her retirement in 1997.
1961-Having driven Scunthorpe United Football Club around in one of his coaches for many years, George became a Director of the club and remained so for 21 years.
1960's- Johnson's began building its fleet to around 35 lorries with additional depots at Goole ran by George's eldest son Cliff Johnson and at Killingholme managed by George's brother Arthur Johnson.
1971- George's second son Colin Johnson joined the company
1977- George's Grandson Neil Johnson (Colin's son) joined the company
1980's- Considerable expansion of storage facilities on site at Crosby Grange
1987- Ron Lovell, General Manager, retired after 34 years' service. Ron was largely responsible for expanding the company through the 60's and 70's and guiding the company through difficult times such as lorry drivers, coal and steel strikes.
1989- George, at the age of 89, goes to college to do a computer course to keep himself up-to-date with the modern world!
2002- Johnsons complete the building of a new warehouse as they celebrate their 70th anniversary a couple of weeks after George's 95th Birthday. At this point George Johnson still played an active part in the business as its Chairman and visited the office every week.
2004- George Johnson died aged 97. George was a Road Haulage Association Life Member and was Vice-President of Scunthorpe United FC!
2012- Johnson's celebrates its 80th anniversary as Colin Johnson celebrates his 80th birthday and is still working at the company 6 days a week!